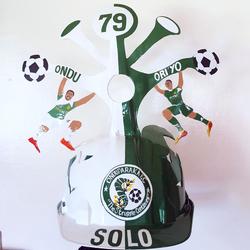 21 November 2016
Makarapa Frenzy


Orders are coming in from all over the world after Team Robertsons Braai-B-Que took the respected South African brand to the World Food Championships in the USA. They created unprecidented exposure on most national TV stations and we are being inundated with requests.

They are not the only ones who have adopted the hand-cut hat which is carefully made by our renowned artists. Big corporate companies such as Anglo American have used Makarapa successfully in their marketing campaigns.

A nine-part radio drama was named after the famous hat to tackle issues such HIV/AIDS in mines. The drama was broadcasted in six languages, listeners made sure not to miss an episode of Makarapa City on Ikwekwezi FM, Thobela FM and Phalaphala FM. Whether you are a team or an individual, you can get the Makarapa of your choice at very cheap prices.

Further makarapa have been made for football teams in Uganda, an international airshow in the UK, Supersports launch of their 2017 football portfolio, SASOL marketing conference, Sundown's campaign in the World Club champs in Japan, 7's rugby and many more.

The best thing is that you can personalize them however you like. Making the Makarapa the best present you can buy for your loved ones this festive season. You can use your Makarapa to decorate your home, car or office. When words fail you, you can simply write your message on a Makarapa and no-one can go past without noticing the historic hat.