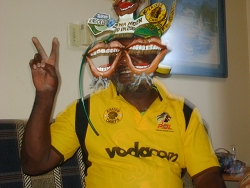 22 January 2014
Q & A with our artist


Scan the crowds at any major football match in South Africa and what will immediately stand out are the elaborately carved and colorfully decorated plastic helmets called Makarapa.

This iconic adornment is an important part of the local football matches' festival atmosphere. But it is not a fly-by-night commercial gimmick; it's the brainchild of a highly talented artist who invented it not just for show, but for safety.

The idea came with Alfred Baloyi, now 56, in 1979 at a local derby in Soweto, South Africa's largest township, in the southwest of Johannesburg. Football derbies are tense more so when Soweto giants Orlando Pirates and Kaizer Chiefs lock horns.

The artistic Baloyi spoke in front of the Lucky Bean Media cameras this week about how he came to inventing the Makarapa. Here is a Q & A between Baloyi and Lucky Bean Media, which will be aired by a Brazilian broadcaster shortly before the start of the 2014 FIFA Soccer World Cup in June.

Lucky Bean Media: How did you come up with the idea to craft this art?

Alfred Baloyi: We used to go to the stadium without wearing anything on our heads and it was dangerous. I realized that these hard hats could protect me. Soweto derbies, traditionally played by top local teams Kaizer Chiefs, Moroka Swallows and Orlando Pirates, are tense affairs, and crowds can become really unruly. At one of the matches I saw a bottle flying through the air about to hit another fan's head, and that's how I got this idea.

LBM: Were you employed at that particular time when the idea came your mind?

AB: Yes, I was employed as a municipal bus cleaner in Pretoria at the time, but soon became totally focused on creating makarapas. My work didn't stop at hats either: I began painting workmen's overalls in the colours of my favorite team Kaizer Chiefs, transforming overalls into stunning and flashy gear.

Other football fans started to notice, and asked me to sell this makarapas on the spot, and gave me their overalls to paint. That's how it started being a business for me.

LBM: Are these Makarapa's still very much in demand even four years after the 2010 Soccer World Cup?

AB: Yes, we are still busy crafting this pieces of art but, although the demand is not as high as during and leading up to the 2010 World Cup, people still want them. We even get orders from other African countries and even from European countries. My dream is to go to Brazil so that I can sell them there and craft them on orders for the Brazilian fans, whom I am told love these Makarapas.

LBM: Did 2010 change your life at all, how?

AB: Yes, it was very good to me because I employed about 100 people working under me so it not only changed my life but the lives of others as well as it created small jobs. We even opened a warehouse in downtown Johannesburg as a result of a huge demand for this makarapas.

I benefited a lot out of doing this because I managed to built myself a very big house in Limpopo and bought two cars as well.

LBM: Who are some of the celebrity footballers that you have met through your job of creating this makarapas.

AB: I met many high profile footballers and administrators. In 2010 Heineken invited me to Holland for a shoot and I met Wesley Schneider while I was there. Although the security was tight around him, I managed to at least give him a hug and shake his hand.

LBM: Do you think these makarapas will still be in demand 10 years from now?

AB: Absolutely. These makarapas get damaged at soccer stadiums and some become out of fashion because we create them in different shapes, sizes and designs. So you might find that the makarapa we created last year is now outdated and a soccer fan needs to buy a new one and comes to us.

LBM: Alfred thanks so much for your time we wish you get granted your dream to go to the Brazil World Cup.

AB: Thank you so much, it is my pleasure.