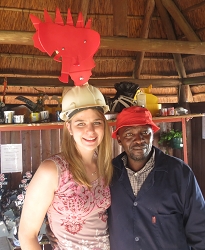 23 April 2014
Makarapa opens doors for University student


Estee Oberholzer (18), a Bachelor of Arts (BA) first year student in Graphic Design at the Potchefstroom campus of the North-West University, was given a class project to design and make an elaborately carved and colorfully decorated plastic helmet with an African touch to it as her assignment.

"As a project, we were given this project to come up with ideas and design and make the Makarapa hut which is supposed to be rich in an African theme," said Oberholzer.

"The African themed Makarapa, in my design, will have an African map on the forehead, an elephant on top of the African map and a depiction of the typical African sunshine at the back of the helmet."

Upon receiving the assignment from her University lecturer, Oberholzer said she struggled for design ideas and decided to surf the internet looking for seasoned artists of the Makarapa helmet who could help out with her project.

"When I looked through the internet, the first thing I saw was the Makarapa.co.za website. I then called them at their Edenvale offices, east of Johannesburg, and asked if I could come and experience at first hand the Makarapa artists at work.

"They agreed and invited me over to come to their workshop and showed me how to come up with design ideas from conception up to the finished product. My mom had to drive me all the way up to Johannesburg to meet the Makarapa team, that's just how eager I was to learn from the best and, as of today, I can safely say the Makarapa Team are the best!

"It was an amazing experience for me as a young and upcoming designer or artist. I met up with the inventor of the helmet, a wonderful gentleman called Alfred Baloyi. Mr Baloyi was patient with me and all I can say is a big thanks to the Makarapa team, you guys have been helpful towards my project," said a visibly chuffed Oberholzer who aspires to be a top notch artist in the near future.