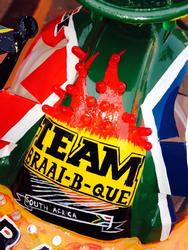 11 September 2015
Makarapa to sponsor Team SA


Grab the spices and charcoal. It's time to light the coals and fan the flames at the Jack Daniel's World Championship Invitational Barbecue in Lynchburg, TN.

On Saturday, October 24, 2015 teams from across the country and around the world will go head to head in an intense battle of smoking, seasoning and searing. Only one will emerge Grand Champion. We hope you'll come out to see us and get a taste of Lynchburg and some of the finest barbecue in the world.

This year's World Championship Barbecue takes place in Jack Daniel's Hollow. It is a combination of culinary expertise and friendly, but serious, competition with a $10,000 prize going to the Individual Grand Champion.

Witness award-winning teams from around the world as they compete for the coveted title of Grand Champion in seven categories: Chicken, Pork Ribs, Pork Shoulder/Butts, Beef Brisket, Dessert, Cook's Choice, and Jack Daniel's Sauce.