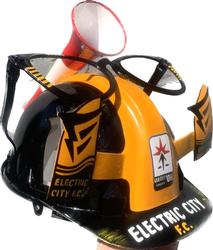 27 July 2023
Electric City FC


Delighted to have been briefed on 'something' different' for Electric FC, a Canadian semi-professional soccer team based in Peterborough, Ontario, that competes in League1.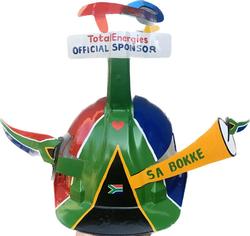 27 July 2023
TOTALENERGIES


As part of the oil companies leveraging campaign, we were briefed to produce 30 different versions of our makarapa's.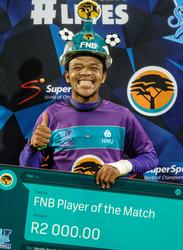 1 October 2021
FNB awards Player of Match makarapa's


The design is simple, but very effective and these player awards are awarded to the 'Player of Match' and 'Player of Tournament.'

To get an accurate rendition of the FNB blue and FNB orange, we have used the exact pantone colours.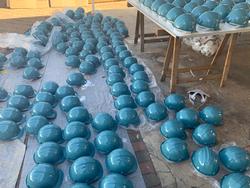 9 July 2021
Extremely PROUD of Team Makarapa


We received confirmation of the order: 370 makarapa; 370 Vuthela's and 370 Fan Glasses, that all needed a special pantone colour - on Wednesday at 12h30.

Our deadline was yesterday (Monday) at 2pm! And we did it with about 2 minutes to spare!

Especially very happy with the clients email to us:

"You are amazing!!

Thanks so much honestly. I really appreciate it.

Pippa Puttick

Brand Name Marketing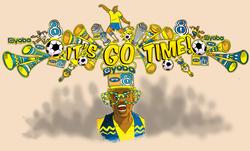 13 April 2021
Massive 3 meter wide Makarapa


We were commissioned by MTN to produce this for their new TV commercial titled "It's Go Time"

Our brief was to produce a 3m wide makarapa that the actor had to wear!

It was very challenging but exciting and we went about constructing it using angle aluminium at the back.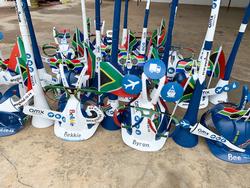 19 October 2020
AMX Logistics incentivise staff


Each of the 14 staff received their own unique designed Makarapa with their nicknames as well as a Vuvuzela.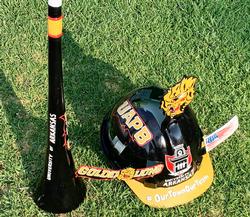 7 September 2020
Off to the USA


An awesome send off gift for a South African heading to the USA!

Good Luck to @JVW FC player Cayla Goncalves, heading to Arkansas Uni on a ⚽️ scholarship 🛫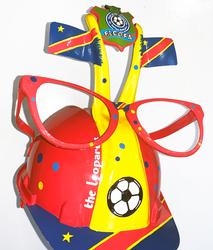 7 September 2020
DR Congo Makarapa


DR Congo are a powerhouse in African football and have reached a high of 28th in the FIFA rankings.

The 'Leopards' have 19 AFCON appearances winning twice in '68 & '74.

We love their colourful and passionate fans and really had fun developing this new range.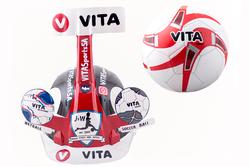 17 August 2020
Win a Makarapa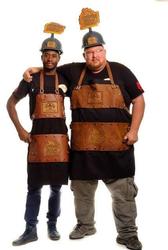 9 June 2020
Ultimate Braai Master


We are delighted to have been supporting and sponsoring them over the past 5 years.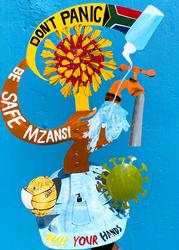 9 June 2020
Corona Virus Awareness


.....Enter narrative here.....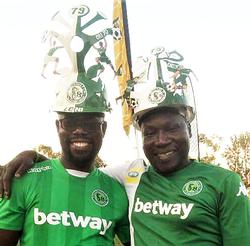 26 June 2018
Great support from our number one Uganda customers.


Appreciate your continuous support - Vipers SC makarapa on its way!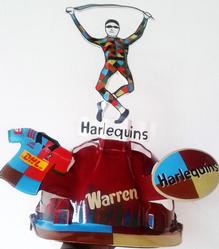 4 April 2018
Dad surprises son from the UK


HI Grant

Just to let you know My son arrived from London on Friday and I gave him the Makarapa.

He was absolutely blown away by it, he was so pleased.

Thanks again

Hope you had a great Easter.

Take care

All the very best

Craig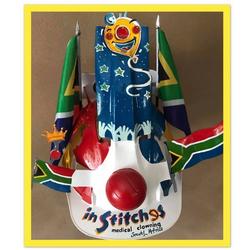 2 April 2018
Awesome 'Medical Clowning South Africa' makarapa produced.


We are off to an international conference ...

This is for a Non-profit organisation called InStitches Medical Clowning South Africa. It will be shown overseas and so it is important for the hat to capture our logo and the South Africa feel/spirit.

Our fantastic InStitches Makarapa! Thank you "Makarapa.co.za" & Papadi Integrated Marketing. We love it!
=4 #institchesZA #medicalclowning #imIN #Makarapa #SouthAfrica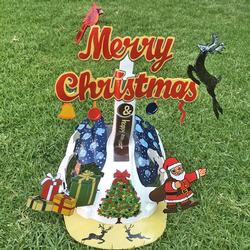 30 November 2017
Merry Christmas Makarapa's


"Merry Christmas" MAKARAPA

now available

.

Front peak can be personalised with a corporate logo.

Call us on 011 022-5920

or drop us an email to info@makarapa.co.za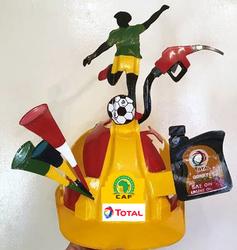 30 November 2017
Total leverage their sponsorship of CAF


The giant oil company, TOTAL South Africa have added makarapa into their communication mix for their massive 8-year sponsorship of CAF (African Football).

These makarapa's are styled on their popular print ad supporting their association of CAF and partnering African Football.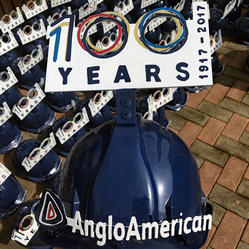 27 September 2017
Anglo American Centenary


Proud to have been commissioned by the 2017 best SA ad agency, Ogilvy - to produce 600 makarapa's for the Anglo American Centenary Celebration at the Sheds on Fox Street.

...and the feedback from the client says it ALL!

"Thank you so much for assisting us with this great job and a big thank you to the talented artists. They look amazing - they have indeed excelled"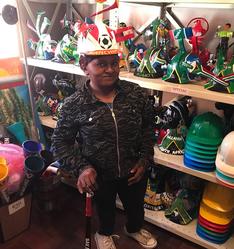 7 September 2017
Meet Sharon, our street hawker


We are so pleased to be able to be helping little Sharon, who is a Zimbabwean 'short person' and has been begging as her 'job' for the past 8 years.

We have often seen her nestled at an Ednvale street corner and after chatting to her, found that she has a skeletal disease and can't really walk very well.

We have given her some hope and she is fast becoming the 'makarapa lady' of Edenvale.

Motorists are now greeted by Sharon, who unfortunately has to mainly sit down and cant walk easily to all the cars, with an array of colourful makarapa's.

She makes R50 per makarapa sold and is slowly selling and building up her clientele!

Hopefully we want to see her earn at least R1 500 a week (and more)!

We are giving her our makarapa's at cost and sometimes below cost to assist her generate some income.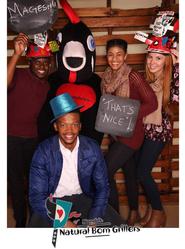 7 September 2017
Terrific feedback from Nando's


" Hi

I hope you are well Amy!

Our thanks to you and your team for helping to make our event last week such a success!

Your design team outdid themselves with the beautiful makarapas and our team were blown away!

Many thanks and kind regards
Leigh

Leigh van der Watt "

NOTE: One of our favourite jobs ever done! Really appreciate the creative license given to us which allowed our artists to express themselves!!!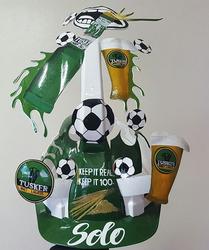 19 April 2017
Ugandan's love Makarapa


Makarapas have been a South African sport trend for decades and has gradually caught the attention of the Ugandan sport market over the years. Great support and interest has been shown from professional soccer teams Ondukarapa F.C. (which means sorghum stem) and KCCA FC abbreviated from Kampala Capital City Authority Football Club.

The two professional soccer teams being from different regions (Aura district and Kampala, the capital city of Uganda) will surely instil the culture of Makarapa in the FUFA games.

Plus Tusker Malt Lager
One of Uganda's favourite beers
We are grateful for the recognition and support!!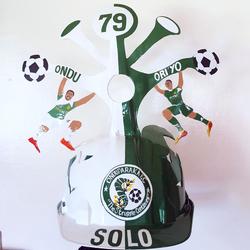 21 November 2016
Makarapa Frenzy


Orders are coming in from all over the world after Team Robertsons Braai-B-Que took the respected South African brand to the World Food Championships in the USA. They created unprecidented exposure on most national TV stations and we are being inundated with requests.

They are not the only ones who have adopted the hand-cut hat which is carefully made by our renowned artists. Big corporate companies such as Anglo American have used Makarapa successfully in their marketing campaigns.

A nine-part radio drama was named after the famous hat to tackle issues such HIV/AIDS in mines. The drama was broadcasted in six languages, listeners made sure not to miss an episode of Makarapa City on Ikwekwezi FM, Thobela FM and Phalaphala FM. Whether you are a team or an individual, you can get the Makarapa of your choice at very cheap prices.

Further makarapa have been made for football teams in Uganda, an international airshow in the UK, Supersports launch of their 2017 football portfolio, SASOL marketing conference, Sundown's campaign in the World Club champs in Japan, 7's rugby and many more.

The best thing is that you can personalize them however you like. Making the Makarapa the best present you can buy for your loved ones this festive season. You can use your Makarapa to decorate your home, car or office. When words fail you, you can simply write your message on a Makarapa and no-one can go past without noticing the historic hat.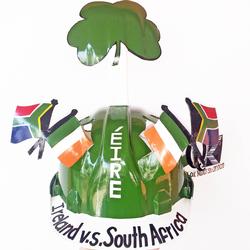 8 June 2016
Rugby frenzy


.....Enter narrative here.....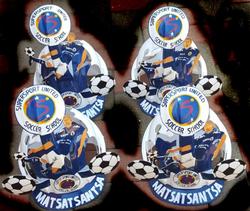 8 June 2016
Supersport United Soccer Schools


.....Enter narrative here.....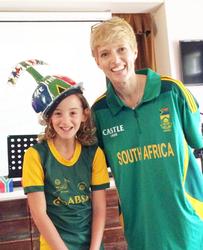 9 March 2016
Gracepoint Church uses Makarapa's in their worship


.....Enter narrative here.....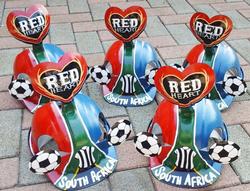 9 March 2016
Red Heart Rum supporting football


.....Enter narrative here.....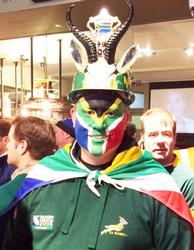 9 March 2016
Great to be supporting the Boks


.....Enter narrative here.....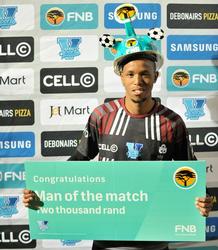 11 September 2015
FNB Varsity soccer loving makarapa's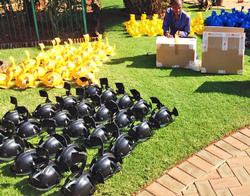 11 September 2015
DIY Makarapa's hit the USA


Makarapa artist's and staff put together a hamper that included over 150 pre-cut helmets which were primed.

They went over with a large hamper of paint brushes, paints including all the artistic utensils - and we are told was the highlight of the groups activities!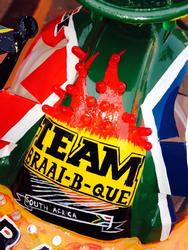 11 September 2015
Makarapa to sponsor Team SA


Grab the spices and charcoal. It's time to light the coals and fan the flames at the Jack Daniel's World Championship Invitational Barbecue in Lynchburg, TN.

On Saturday, October 24, 2015 teams from across the country and around the world will go head to head in an intense battle of smoking, seasoning and searing. Only one will emerge Grand Champion. We hope you'll come out to see us and get a taste of Lynchburg and some of the finest barbecue in the world.

This year's World Championship Barbecue takes place in Jack Daniel's Hollow. It is a combination of culinary expertise and friendly, but serious, competition with a $10,000 prize going to the Individual Grand Champion.

Witness award-winning teams from around the world as they compete for the coveted title of Grand Champion in seven categories: Chicken, Pork Ribs, Pork Shoulder/Butts, Beef Brisket, Dessert, Cook's Choice, and Jack Daniel's Sauce.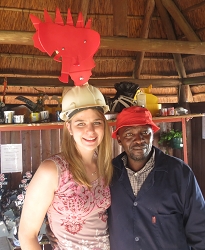 23 April 2014
Makarapa opens doors for University student


Estee Oberholzer (18), a Bachelor of Arts (BA) first year student in Graphic Design at the Potchefstroom campus of the North-West University, was given a class project to design and make an elaborately carved and colorfully decorated plastic helmet with an African touch to it as her assignment.

"As a project, we were given this project to come up with ideas and design and make the Makarapa hut which is supposed to be rich in an African theme," said Oberholzer.

"The African themed Makarapa, in my design, will have an African map on the forehead, an elephant on top of the African map and a depiction of the typical African sunshine at the back of the helmet."

Upon receiving the assignment from her University lecturer, Oberholzer said she struggled for design ideas and decided to surf the internet looking for seasoned artists of the Makarapa helmet who could help out with her project.

"When I looked through the internet, the first thing I saw was the Makarapa.co.za website. I then called them at their Edenvale offices, east of Johannesburg, and asked if I could come and experience at first hand the Makarapa artists at work.

"They agreed and invited me over to come to their workshop and showed me how to come up with design ideas from conception up to the finished product. My mom had to drive me all the way up to Johannesburg to meet the Makarapa team, that's just how eager I was to learn from the best and, as of today, I can safely say the Makarapa Team are the best!

"It was an amazing experience for me as a young and upcoming designer or artist. I met up with the inventor of the helmet, a wonderful gentleman called Alfred Baloyi. Mr Baloyi was patient with me and all I can say is a big thanks to the Makarapa team, you guys have been helpful towards my project," said a visibly chuffed Oberholzer who aspires to be a top notch artist in the near future.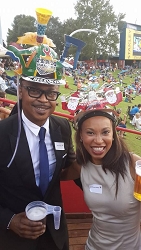 22 January 2014
Isidingo TV crew love our makarapa's


The actors and actresses met up with Team BBBQ at the recent Ram Slam Twenty20 match played at Supersport Park in Centurion.

Great to see their support of our great South African heritage makarapa.

Thanks for your support guys!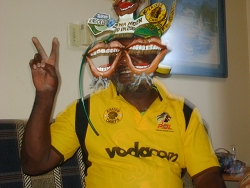 22 January 2014
Q & A with our artist


Scan the crowds at any major football match in South Africa and what will immediately stand out are the elaborately carved and colorfully decorated plastic helmets called Makarapa.

This iconic adornment is an important part of the local football matches' festival atmosphere. But it is not a fly-by-night commercial gimmick; it's the brainchild of a highly talented artist who invented it not just for show, but for safety.

The idea came with Alfred Baloyi, now 56, in 1979 at a local derby in Soweto, South Africa's largest township, in the southwest of Johannesburg. Football derbies are tense more so when Soweto giants Orlando Pirates and Kaizer Chiefs lock horns.

The artistic Baloyi spoke in front of the Lucky Bean Media cameras this week about how he came to inventing the Makarapa. Here is a Q & A between Baloyi and Lucky Bean Media, which will be aired by a Brazilian broadcaster shortly before the start of the 2014 FIFA Soccer World Cup in June.

Lucky Bean Media: How did you come up with the idea to craft this art?

Alfred Baloyi: We used to go to the stadium without wearing anything on our heads and it was dangerous. I realized that these hard hats could protect me. Soweto derbies, traditionally played by top local teams Kaizer Chiefs, Moroka Swallows and Orlando Pirates, are tense affairs, and crowds can become really unruly. At one of the matches I saw a bottle flying through the air about to hit another fan's head, and that's how I got this idea.

LBM: Were you employed at that particular time when the idea came your mind?

AB: Yes, I was employed as a municipal bus cleaner in Pretoria at the time, but soon became totally focused on creating makarapas. My work didn't stop at hats either: I began painting workmen's overalls in the colours of my favorite team Kaizer Chiefs, transforming overalls into stunning and flashy gear.

Other football fans started to notice, and asked me to sell this makarapas on the spot, and gave me their overalls to paint. That's how it started being a business for me.

LBM: Are these Makarapa's still very much in demand even four years after the 2010 Soccer World Cup?

AB: Yes, we are still busy crafting this pieces of art but, although the demand is not as high as during and leading up to the 2010 World Cup, people still want them. We even get orders from other African countries and even from European countries. My dream is to go to Brazil so that I can sell them there and craft them on orders for the Brazilian fans, whom I am told love these Makarapas.

LBM: Did 2010 change your life at all, how?

AB: Yes, it was very good to me because I employed about 100 people working under me so it not only changed my life but the lives of others as well as it created small jobs. We even opened a warehouse in downtown Johannesburg as a result of a huge demand for this makarapas.

I benefited a lot out of doing this because I managed to built myself a very big house in Limpopo and bought two cars as well.

LBM: Who are some of the celebrity footballers that you have met through your job of creating this makarapas.

AB: I met many high profile footballers and administrators. In 2010 Heineken invited me to Holland for a shoot and I met Wesley Schneider while I was there. Although the security was tight around him, I managed to at least give him a hug and shake his hand.

LBM: Do you think these makarapas will still be in demand 10 years from now?

AB: Absolutely. These makarapas get damaged at soccer stadiums and some become out of fashion because we create them in different shapes, sizes and designs. So you might find that the makarapa we created last year is now outdated and a soccer fan needs to buy a new one and comes to us.

LBM: Alfred thanks so much for your time we wish you get granted your dream to go to the Brazil World Cup.

AB: Thank you so much, it is my pleasure.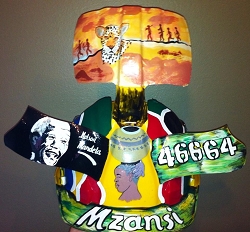 1 November 2013
Launch of our new www.makarapa.co.za website


Welcome to our new and exciting website which will showcase our offerings to the market.

We will be constantly updating our galleries with our latest designs and fan inventions.

We really look forward forward to showcase the exceptional talents of our large stable of very creative artists, many of whom are unemployed and make there living from the company.

We appreciate all of your support which really goes a long way to assisting our crew, so the more orders we get the more money they make!

We are proud to also have finally received the trademark registration for 'makarapa' and aim to keep this a local South African venture. We are particularly proud the FIFA have recognised the trademark under the catergory 'headware' and sub category 'novelty headware!'

Kind Regards

Team Makarapa